CD Poker Member's Freeroll - July 16th 2006
8dalejrfar8 wins Love-Texas-Holdem's first ever members-only freeroll!
I would like to say thanks >to you all I played in the I LOVE TEXAS HOLDEM tournament on CD Poker and >won the tournament.

Jeff
The tournament was open to 100 players and places filled up steadily during the week before the tournament, with a big rush on Sunday filling the remaining places.
Prize money well spread out at 30/20/10/8/6 then down to $1 for 20th place.
Here's the picture at the start: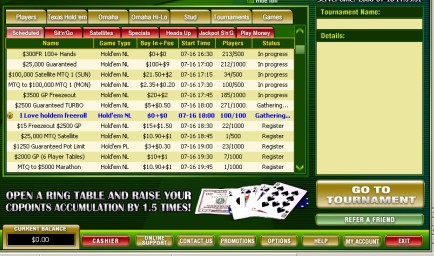 After about two hours play, the tournament was down to the final table.

Here's a shot of the final table, did you make it?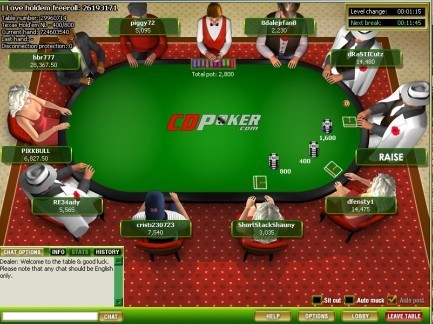 After a titanic struggle the first ever members-only freeroll was won by member 8dalejrfar8 who beat ShortStackShauny in the heads up battle.

This is the moment where we went down to two players, our champion 8dalejrfar8 winning with two pairs against hbr77's AK after flopping a Q and a 6.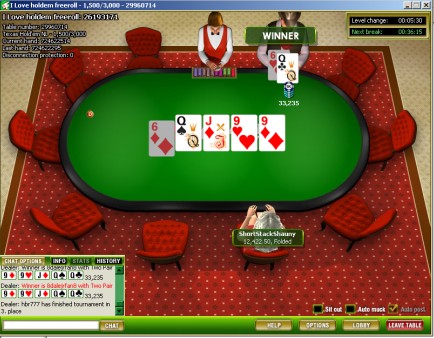 Here's a shot of the winning hand, 8dalejrfar8 takes the main prize - and of course the glory! - with an Ace high.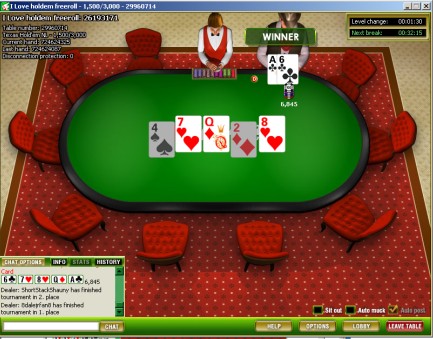 It's all over - did you finish in the money!